The Ultimate Guide on Flush Levers
Hardware on the Square, the only place to get lumber in San Augustine County, has a great staff. Joe and Buster will show you tips and tricks to do little jobs around your house. These tips will save you time and money and make you laugh while you learn. So buckle up and enjoy this week's exciting trip through the weird and wonderful world of DIY projects you can do at home.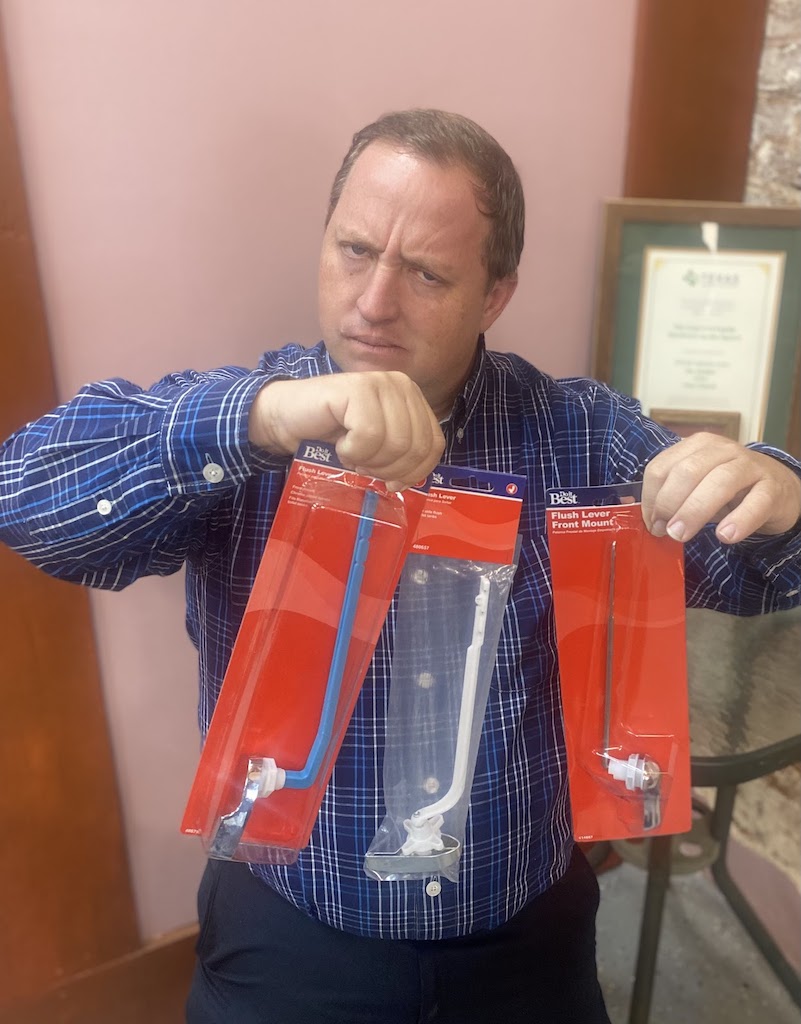 In this video, we will show you how to replace a flush lever with no hassle!
Toilet flush levers are a tricky thing! You know you need it, and you go to the store where your brain is assaulted by a huge selection of choices. Very few customers who come into the store remember if their lever is on the front or on the side of their tank. Make sure you know what you need. At Hardware on the Square, you can bring a photo of your toilet, and we will be able to help you get just the one you need.
How to fix this tricky problem with one simple thought in mind!
When you go to replace your flush lever, you have to keep this one thought in mind. These are left handed threads! You will try to loosen, and the nut will get tighter. Just make sure you twist it to the right to loosen it and to the left to tighten it.
Here are the quick steps to solve this problem!
Make sure you know what lever you need.
Carefully remove the lid from the toilet.
Look to see where the flapper chain hooks to the old handle.
Loosen the nut on the old lever by twisting it to the right.
Put the new lever in place and tighten the nut by twisting it to the left.
Put the flapper chain back in the same location as it was before.
Carefully replace the lid on the toilet.
What if this did not work?
We are always here for good advice at Hardware on the Square. We are here to help you on this and other projects. If you are having a hard time, you can call us at (936) 275-9474, or come in for a visit. You can see these products that we mention in this post in our store, or we even have a super online store you can visit at HardwareOnTheSquare.com
Hardware on the Square is a small-town hardware store with a coffee shop and pizza restaurant inside.
We do our best to provide you with the best customer experience imaginable. We have everything from nails, screws, and hammers to outdoor furniture and grills. You name it, we probably have it! And if we don't, just ask us for what you need because chances are we can get it for you in no time flat.
I hope you visit us and see our great selection of lumber and other hardware items. We also have the best coffee shop in San Augustine as well as the top-rated pizza in town. Come visit us and enjoy the experience of an old-fashioned hardware store in the "Cradle of Texas!"
Leave a comment below to let me know if this tip helped you in any way!